Table of Contents
Introduction
Specs and Features
First Impressions
Pros and Cons
Professional Opinions
Conclusion
Introduction:
Lock N Load! Says the tagline. The mod is shaped like the grip of a pistol, and you can hold it like a gun. At first glance, this appears to be one of those flashy kits with way too many embellishments that end up disappointing you. Luckily, this one offers a MAMMOTH! 8mL sub-ohm tank, two V12 Prince coils, and a 225W box mod. Imagine the amount of cloud-chasing you can achieve with that amount of power?
I will show you my first impression and review as I unpack and experience the Mag Kit. After that, I will give you a pros and cons list gathered from around the web. I consulted the opinions of dozens of other vapers and picked the top 3 most relevant ones. Hopefully, this helps you understand this kit better, or helps you with making the decision to buy – or no to buy – the SMOK Mag 225W TC Starter Kit.
First things first – let's break it apart and look at its bare bones: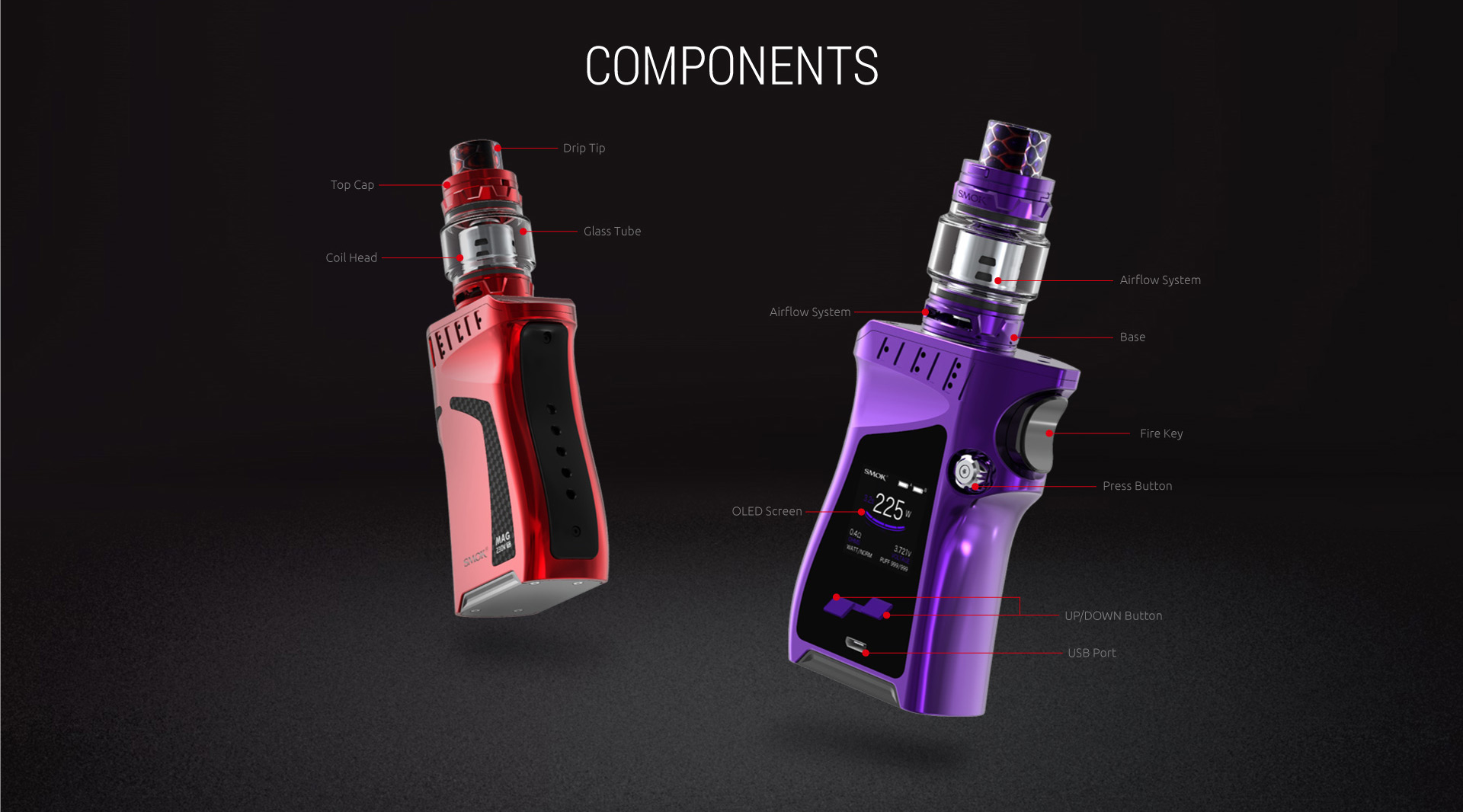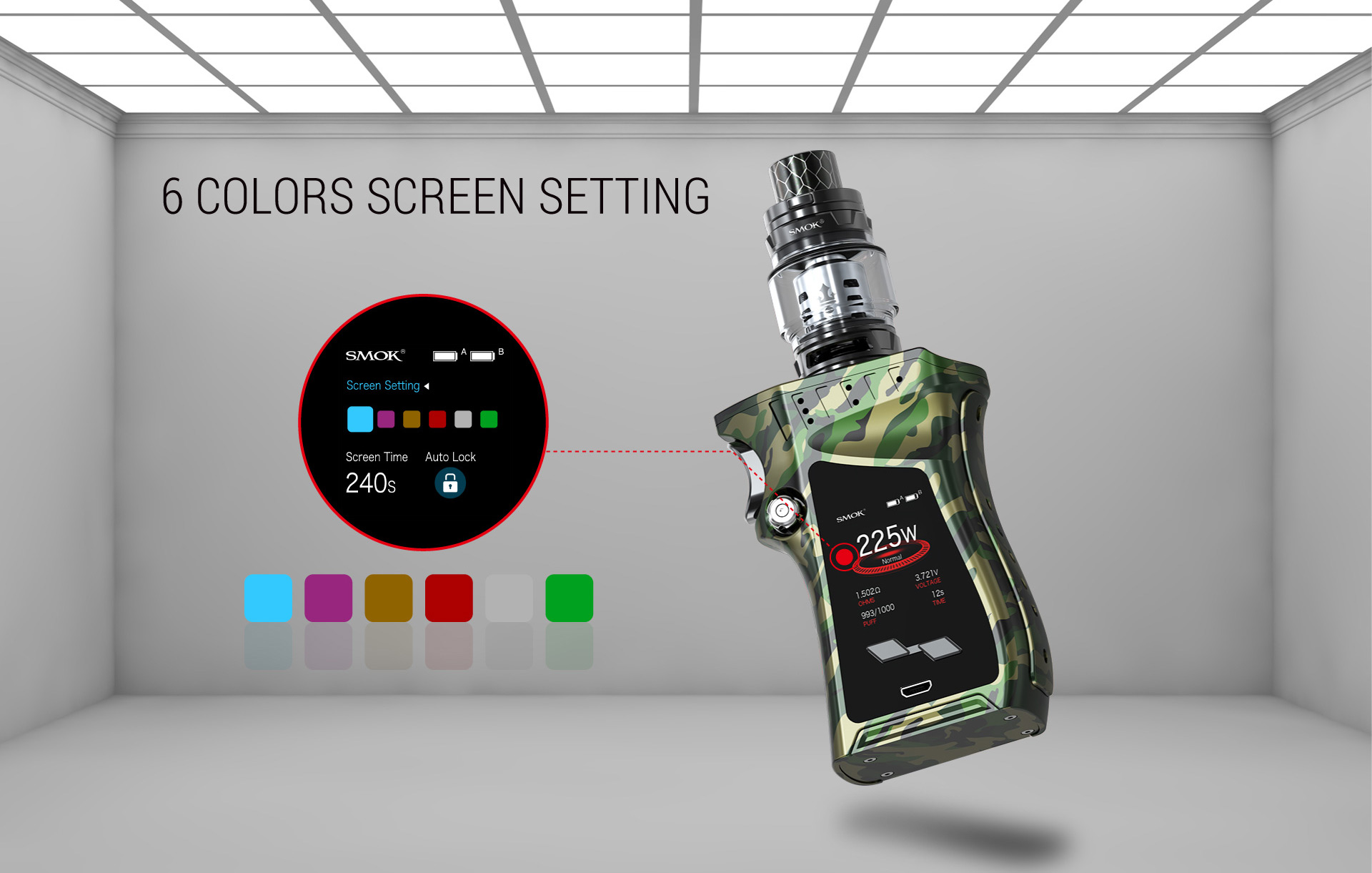 Specs
Dimensions: 92 x 65 x 30 mm
Display: Full-Color OLED Screen
Box Mod Material: Zinc Alloy
Battery: Dual High-Amp 18650 Batteries (Not Included)
Wattage Output Range: 6 - 225W
Minimum Atomizer Resistance:05ohm
Temperature Range: 200 - 600F
Sub-Ohm Tank Diameter: 25mm
Juice Capacity:0mL - Standard / 8.0mL - Convex Glass Extension
Coil Ratings:12ohm V12 Prince-T10 Decuple Coils (rated for 60 - 120W), 0.4ohm V12 Prince-Q4 Quadruple Coils (rated for 40 - 100W)
Sub-Ohm Tank Material: Stainless Steel w/ High-Grade Glass Reinforcement
Features
Ni200 Nickel, Titanium, & Stainless Steel Heating Elements
Precision Memory Modes
Oversized Trigger-Like Firing Switch
Sliding Battery Bay Access - Button Lock
Intelligent Atomizer Recognition
Battery Series Connection
Over-Discharge Protection
Over-Heat Protection
Over 12s Cut-Off Protection
Short-Circuit Protection
MicroUSB Port - Firmware Upgrades
510 Connection
High Temperature Resistance - Explosion Proof
Convenient Top-Fill Rotary Design - Lock Button Mechanism
Massive Dual Adjustable Airflow Control at Base
810 Cobra Resin Ultra-Wide Drip Tip
Performance-Grade V12 Prince Coil Structure
Colors Available:
Silver/Black, Red, Gold, Purple, Green, Navy Blue, Pink, Rainbow Prism, Red Skull, Camo, Rasta, Belgium, & Red Spray
First Impression:
After I lift the box and meet the SMOK Mag for the first time, I feel immediately pleased with the aesthetic. It's quite impressive. The packaging itself is very much like other SMOK products, if you've ever purchased one before.
The cobra pattern drip tip is elegant and sleek. To fill your juice simply push the top compartment with your thumb – feels exactly like refilling the SMOK Nord AIO. You get two Prince coils with the kit: 0.4ohm and 0.12ohms. I will test out the vapor in a little bit.
I am glad to see an airflow dial at the bottom of the tank. Easily adjustable, you can simply turn with one finger.
My first concern when holding the gun-shaped mod is the 225W power. I think that's way too much power and could cause injury, but then I see TC (Temperature Control) emblazoned on its side and my nerves calm down.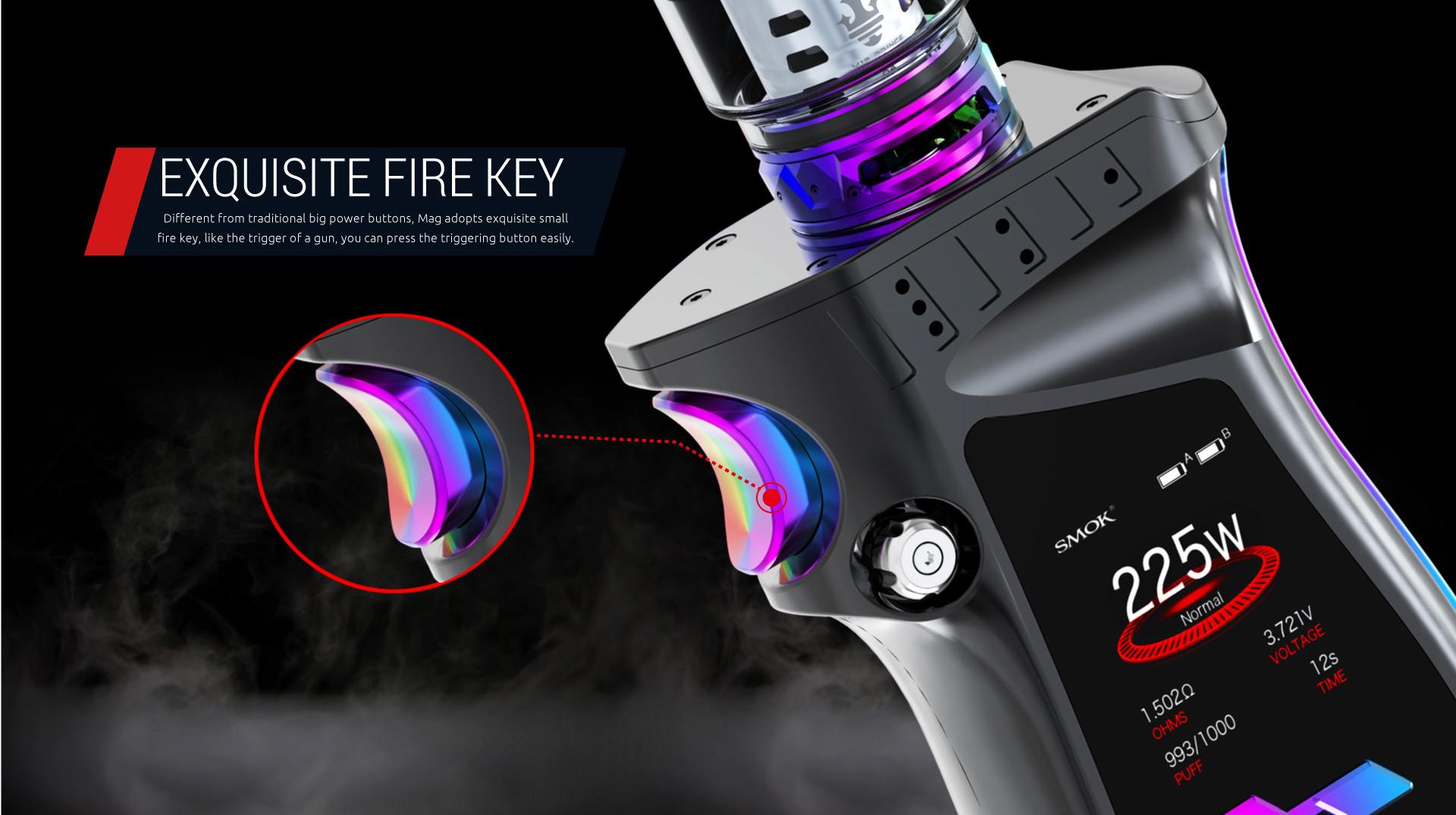 The interface is easy to understand despite all its different settings. Personally, I don't enjoy these many settings, but don't let my subjective preference deter you. It's still pretty good.
The mod sits easily in my hand. Despite its shape, and after a little getting-used to, it's very comfortable. The puff quality is insanely good. The coils and wattage provide robust and flavorful vapor. If you're wondering if cloud-chasing is possible with this, the answer is yes!
Don't expect to pull off a heist with this, or even hold up a convenience store. Thankfully, it doesn't resemble a gun in a way that could get you in trouble. It's mostly the feeling of holding it and squeezing the fire button. It's a lot of fun.
Pros & Cons:
PRO: User-friendly
PRO: Attractive gun-like design and sleek aesthetic
PRO: Hefty e-juice reservoir
PRO: No rattling
PRO: Interface is customizable and easily upgradeable
CON: Fingerprint magnet
CON: Fire button too close to battery release
Other Professional Opinions:
Don't just take my word for it. I've searched all over the internet looking for other SMOK Mag 225W TC Starter Kit owners to pick their opinions and give you an unbiased collection of pros and cons.
Let's probe their thoughts:
Matt from SMM
Pros
Tank matches mod pretty well
Can use a 30mm tank without overhang
"Gun-clip" looking battery compartment slides out easily and clicks into place
Ergonomic design
No rattling buttons or compartments
Prince tank is considered an all-time favorite
Huge cloud-production
Easily adjustable interface
Color change display capability is nice
Cons
Should have USB-C charger for a powerful device as this
Fire button is kind of mushy instead of clicky
The battery release button is near the fire button – could accidentally press the wrong button
Fingerprint magnet
RiP Trippers
Pros
The tank has a Prince tank – huge ratings for the Prince tank
Cool battery gun-clip compartment
Terrific fire button
Feels very ergonomic
Plenty of amazing colors
Thick mod and no tank overhang
Insane cloud production
Cons
Zophie Vapes
Pros
Great cloud production
Plenty of amazing colors
User-friendly interface
Comfortable mod sits nicely in hand
Cons
The firing button shouldn't be the settings button – they need an extra button for settings
Heavy mod
Turning it on and off takes too long – shouldn't need to browse settings
Conclusion:
This kit remains average despite its best intentions to be unique. It's like the younger sibling who acts out but, in the end, makes no difference and ends up becoming an accountant just like dad and the rest of his brothers.
Overall, there is one complaint for every five compliments. This is an average device that delivers what it promises with an added unique aesthetic. Just because something is average doesn't mean it's bad, I know, but it's hard to praise something with a glaring embellishment without being nitpicky about its flaws.
The reviewers agreed on a few counts. Starting with the complaints, we hear it's a fingerprint magnet, the interface is annoying, and it's heavy. Also, the fire button is mushy and not clicky, and it sits too close to the battery release button. Those are complaints but are they really considered deal-breakers? I think not
The positives are overwhelming and despite not being anybody's favorite kit, it delivers on its promises and gives a bang for your buck. You can cloud-chase with this puppy, with 8mL of e-juice and the highly rated prince coils. If you want to cloud chase and rip big – get this and shoot to your heart's content.