Hello again, vaper.
I'm sure you've heard of this little guy right here – the Novo 2.
It's the sequel to the original Novo by SMOK: The second coming.
What I'm about to share with you is massively important for vapers who've been following SMOK. . . and who are aching to dive into the latest iteration of the Novo.
And if this is your first time, this is for you, too.
I'm lounging here at ProVape HQ basking in frosty A/C as the Burbank heat ravages everything outside the building. I feel bad for anyone trudging along the sidewalk (and possibly melting!).
Today, I'm gonna offer a review of this product that will – hopefully – help you make a choice: to ignore the Novo 2 and move on, or to start sucking on some of that epic vapor that has been eluding you.
It isn't much of a cigalike, but a pod system. It's compact and extremely convenient to pocket, much like its predecessor.
Vapor That Satisfies
I'm talking about both flavor and cloud billowing capacity.
No one is truly worthy of the vape wet-dream now available to anyone who's willing to try new products and find something great. It's too grandiose and over-the-top fantastic.
We take it for granted.
Easy for me to say, since I get these for free for the purpose of the review – but make no mistake, I'm a vaper 24/7, and live by the same standards.
But this isn't about me (I can already hear my wife complain, "isn't everything always about you?").
The problem is, perhaps, the many pod kits available out there. Think back to a few years ago when we only had access to a small handful.
Don't fret! I'm just looking at the silver lining and whatnot.
As you've probably heard, the vaping industry has been walking on eggshells lately.
Nowadays, it appears that we're SOMEHOW responsible for everything: seizures, poisoning, the bubonic plague, AIDS, and scaphism.
The vaping industry is changing around us, and savoring each new product becomes more satisfying.
We don't know when the FDA will finally collect all Infinity Stones and snap vaping out of existence.
Unwrapping the Package
It's time to let it hang. To set it free - as the lord intended.
Before we unpack it, let's take a peek at the specs and features. Let's see how it fares under the microscope: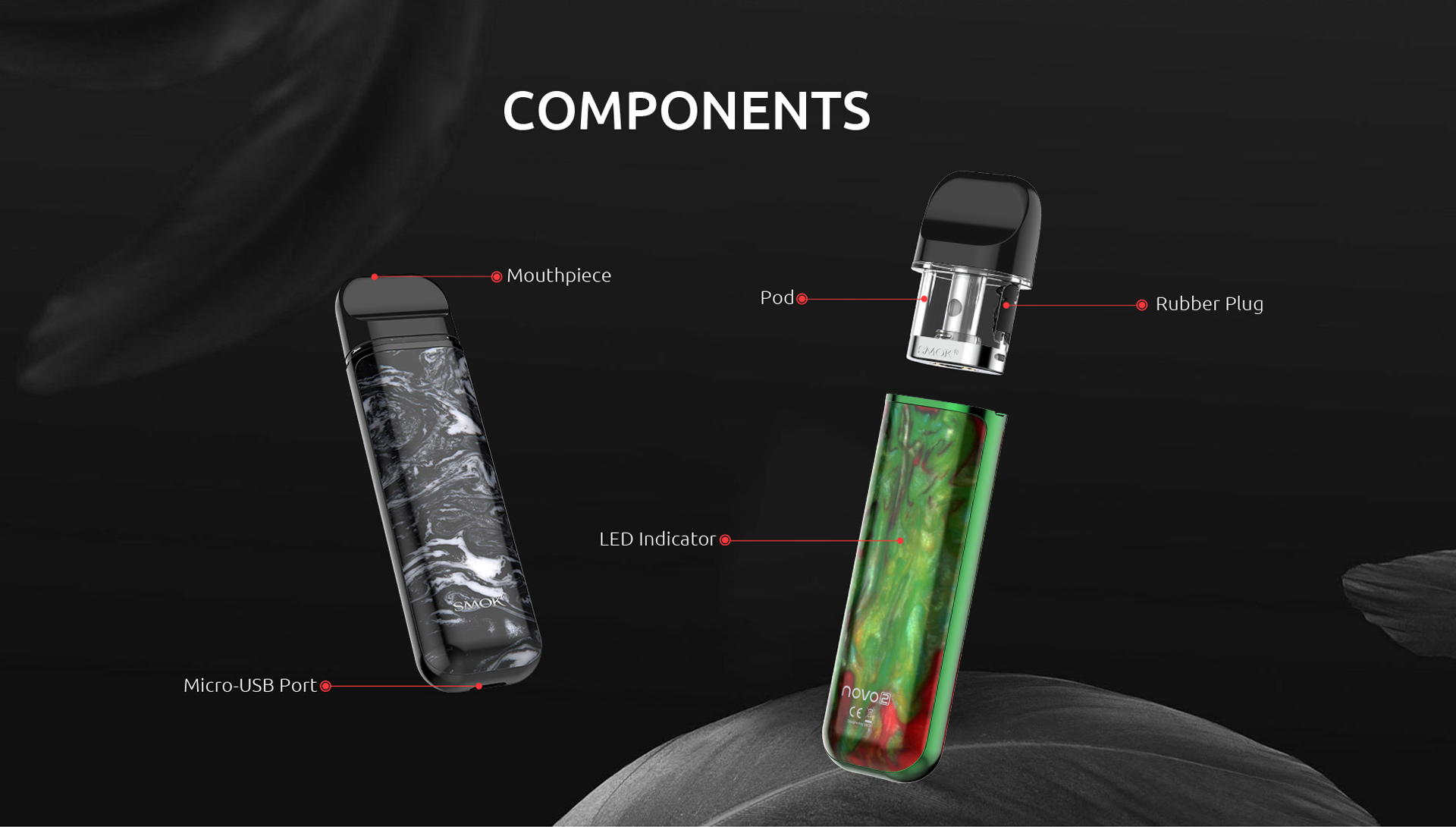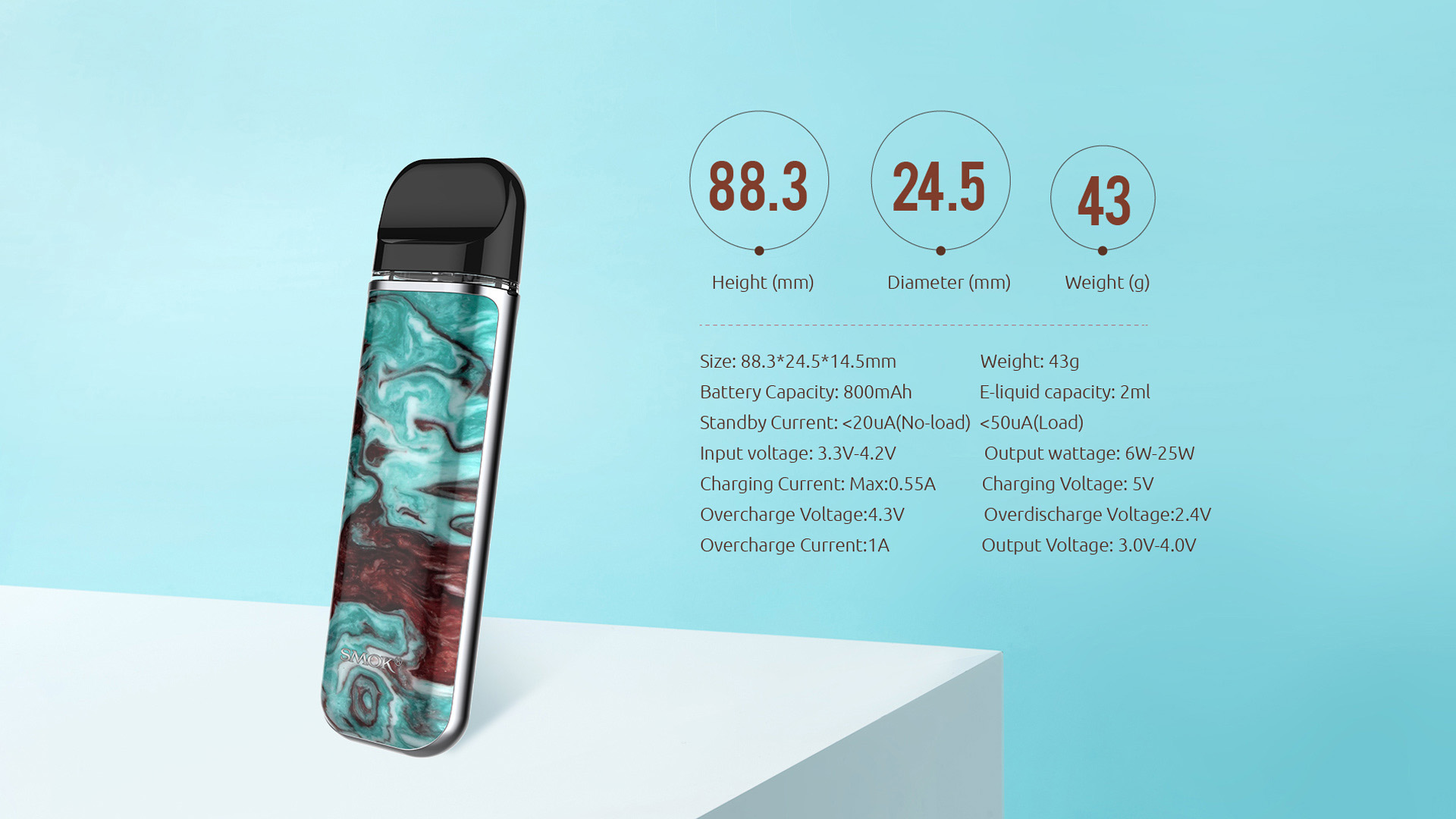 Colors Available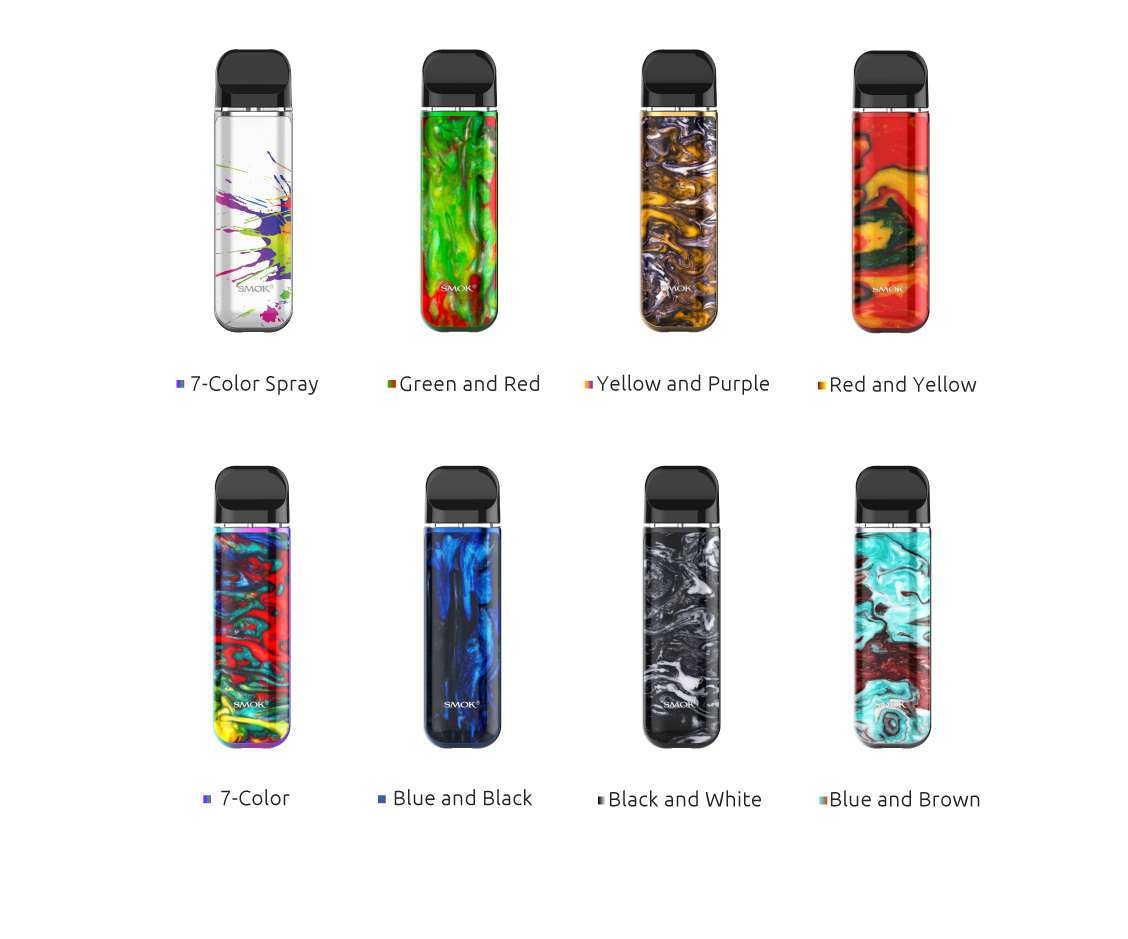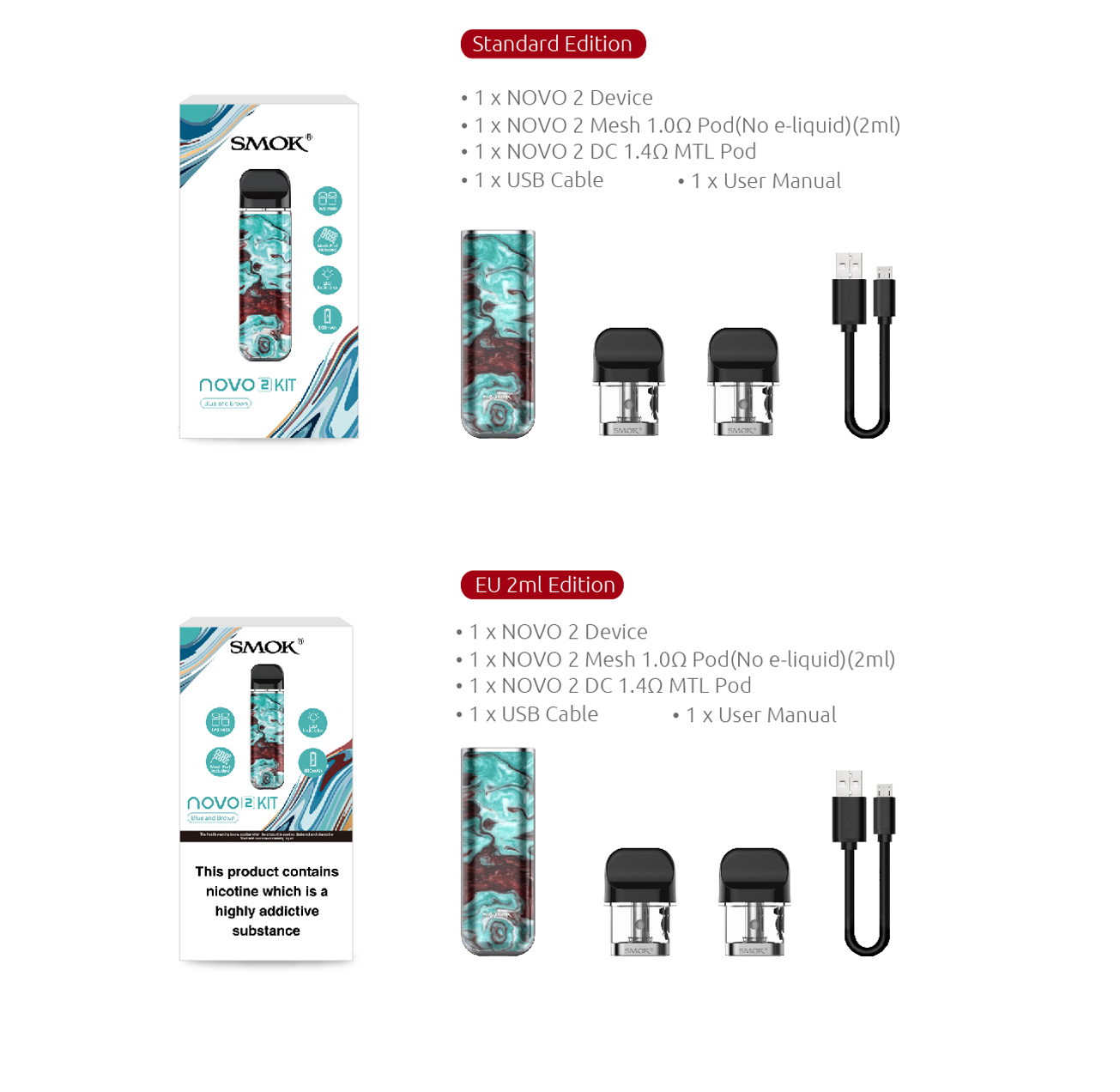 Time to unpack this bad boy.
From the get-go, my spidey sense is assuming things without compunction.
The lightweight packaging looks neat, and as I open the box, there it is. Gleaming with radiant beauty: The Novo 2.
Impish little thing is begging to get abused with some heavy puffing—I can already tell.
The one I'm reviewing is the Blue and Brown color.
Smooth and soft at the touch, each piece is aesthetically pleasant.
I really like the colors, but not necessarily my style. Each color looks like an acid trip, but the good kind! I just prefer solid colors.
The two included pods are sitting in a tree, W-A-I-T-I-N-G (to get filled).
The DC 1.4ohm coil is ideal for Mouth-to-Lung, and the spare is a mesh coil with 1ohm coil resistance.
I'm filling up both with some Churrios by Milkman, the classic and one of my

all-time favorites.

The airflow offers a nice and loose MTL.

Open your gullet wide and let it pour out clouds as big as continents.

For an MTL, not bad at all.

Both pods hold 2mL of e-liquid and perform admirably.
The 1ohm coil delivers the best flavor of the two in my opinion – with minimal spit back (almost none).
The side-filling design allows for seamless refilling - you simply remove the little plug and juice up.
Sucky thing about this pod is that you can't see your e-liquid level while you're vaping.
No biggie.
When you snap the pod back into place, the LED battery light indicator will flash and tell you the current battery charge status so you can plan your remaining puff accordingly.
"It's been super reliable. It's been good;
no auto-firing, no leaking, not even condensation."
- RiP Trippers, Novo 2 Product Review
Working Down the Body
Just look at the picture. That's all you need to know about the LED battery indicator. No need for friendly platitudes.
If you liked the original Novo, this looks JUST like it, but this one offers

TWICE the battery life.

That's right! TWICE.
They've also updated a few other things, like smoothing out certain edges and other aesthetics.
The size is the same and when compared side by side, you can't really tell much of a difference.
The battery is unregulated - meaning the lower the battery juice gets, the weaker the draw.
No need to look glum about it, it's the name of the game with anything powered like this.
As long as you keep your device at a good level, you shouldn't even notice a difference. Remember, sucky draws probably mean there's a faltering battery
"I like a lot of the improvements with this one, and I see myself carrying it and using it a lot with the mesh pod."
- DJLsb Vapes, Novo 2 Product Review
Hanging by Myself
I wanted to mention the lanyard (which is sold separately, unfortunately).
If you're like me and love to take a few hits as you do work around the house, having a lanyard can be useful. This way you don't have to pull it out of your pocket every 45 seconds.
I've also heard of people who love to vape while working manual / labor-intensive jobs and having their vape handy makes the work easier and the day go by faster.
Whatever floats your boat, rocks your socks, or sizzles your bacon.
This is a nifty extra you may want to check out if you have the extra cheddar cheese to spend.
Down to Clown
SMOK is offering 7 stickers you can use on your Novo 2.
Personally, I don't want clowns on my kit but maybe you do. Who am I to judge?
These are all sold separately (thankfully. . . shhh!)
You can also purchase customized decals from other places, and choose non-clown designs you could actually enjoy looking at.
Closing Thots
SMOK is a company that has been criticized heavily because of their quality control – or lack thereof.
People LOVE to hate SMOK, and there have been times when I've joined the bandwagon. I'm no angel – don't tell my mother.
I'm not here to presume how a hugely successful company is supposed to run, but I'm gonna tell you something. . .
As a vaper, as a consumer, the Novo 2 delivers exactly what it promises, in spades, on a silver platter, with a cherry on top.
And let's face it, $20 bones isn't much green, either. It's super affordable.
There are way better, far more expensive pods and starter kits out there.
Those are the kits you deserve, but not the ones you need right now. So, you should get this. Because it's cheap and amazing. Because its our hero. The Novo 2.
FADE OUT